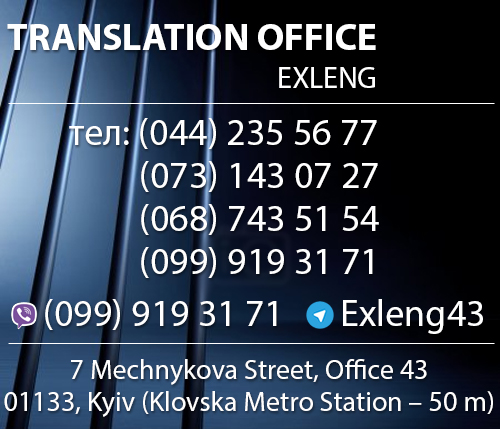 Written translations of documents and texts
Professional translations
in the downtown of Kyiv
(26-year experience)
We work with texts of any volume —from 1 line to hundreds of pages.

We will perform the translation
of texts and documents in any subject area in a quick and qualitative way
---
Legal translation (constituent and registration documents, contracts)
Economic translation (financial statements, accounting, bank documentation)
Medical translations and pharmacological translations
Translations of technical documents and operation manuals for equipment of any type and of
any complexity degree
Translations of investment projects, catalogues, certificates of quality, customs and declaration documents
as well as
Translations of field-specific texts in such fields as:
audit, insurance, law, telecommunications, information technology, mechanical engineering, household appliances, chemical and pharmacological subject areas, food industry, oil/gas, social sciences, ecology, power industry, etc.;

Translations of presentations, literary, journalistic, popular science, advertising texts
Translations of personal documents (certificates of birth, marriage, passports, certificates,
diplomas, etc.)
---
You can make a request for
a translation or an estimate of its price and managers of
our Translation Agency will
contact you.

Our contact details:

7 Mechnykova Street, Office 43
01133, Kyiv, Ukraine